Archive for the 'Bear Market' Category
"Plans are plans until they aren't. Don't confuse trading ideas with prophecy. You don't know the future. Unless you cause it."
-Curtis Faith
This morning I went in very biased about buying Apple long, my mind was clouded with the support level of the 50 week moving average holding up perfectly yesterday and in the pre-market. Looked like a perfect play off  the last support level that held up for years. My love for the products did not help me think more clearly. I came in biased. I even wrote a special morning blog to explain my set up. One of the best professional money managers and a great prop trader commented on my blog post in the morning on facebook, and pretty much said I was wrong, dead wrong on that support holding. As the stock opened for trading I became flexible and aware of what happened in the past when I traded against those guys. Yes, Apple was oversold, yes it was far extended from the 5 day ema and due to return, yes it was holding at the 50 week ema, yes it has $100 per share in cash and the most innovative products in the world and a ridiculous P/E ratio of 12. But with a clear, cautious, and flexible mind ready to go long instead I shorted when it failed to make new highs of the day after opening and losing the 50 week line, then when it rallied back above it and failed again I doubled up. I used weekly in the money puts and ended up with very nice gains almost doubling my capital at risk in one hour. One thing that new traders have trouble with that seasoned traders do not is flexibility to change with the market.  We have to identify a place the market can move that tells us that we are dead wrong no matter what our beliefs are.
Charts are my best mentors and moving averages are my best teachers.
Entering into Monday Morning I am long Apple with an in the money $610 strike weekly call option but I am hedged with an out of the money $620 weekly put. Like me many traders see indecision with that doji candlestick laying right on the 100 day ema support line. This is the first time all year I have implemented a hedge and not been in a purely directional trade. But, with this option play structure I will capture the full upside of a possible bounce and run with Apple into earnings but my losses are capped to only a few hundred dollars if Apple does rollover under the 100 day ema and 100 day sma and falls towards the 200 day sma at $575 next week. From looking at the chart my belief is that the lowest we will go is the 100 day sma at about $622 that is the probable support area. The resistance level on the upside is at the 5 day ema of $636.55, if we have trouble getting over that line intra-day then it is a good place to take profits on bounces. If we break and close above the 5 day ema then that is my sign to get long with a possible change in trend into earnings. From chart history it looks like this is now a dangerous place to be short and a short covering rally could happen at any moment along with positions being taken by funds for longer term investments at this attractive price point for a value play with a 15 P/E ratio. In the long term time frame this stock is still in an uptrend and at its support level. This is the crossroads, the bottom of the uptrend or the top of a new downtrend. My bet is slanted to the upside.
I will be long with no hedge with a close above the 5 day ema $636ish currently but this target moves fast.I will ride the long until earnings if it stays above the 5 day ema.
I will hold my put option and go solely short by selling my call option with a close below the 100 day ema targeting the 200 day as the next chance to get long.
Here is a great article that appeared in

Investor's Business Daily

discussing the historical limits Apple can get above the 200 day moving average before a correction. Interesting reading but it may or may not help with your specific trading style, for information purposes only.
CLICK ON YELLOW HIGHLIGHTS IN ARTICLE SO IT POPS OUT BIGGER FOR EASY READING

. Also be sure to view below chart.

The market is at a cross roads, we are either at the bottom of a bull market or the beginning of a bear market. The up trend is still technically in place but the bears are fighting to bring us into an official down trend. Below or five key price levels to watch, we either bounce or we will wrestle with maintaining these levels. If they are lost we may struggle and get back to them but it is possible that they become resistance in a down trend. Government interference is beginning to lose its ability to stabilize the markets. It is becoming decision time, buy the dip or short the downside break out?I believe the following levels will be the key, either we bounce strongly and the up trend resumes or we lose these levels and plunge into a down trend to cleanse all the market of weak hands.

For bulls to stay in control they can not give up the 50 day SMA line to the bears.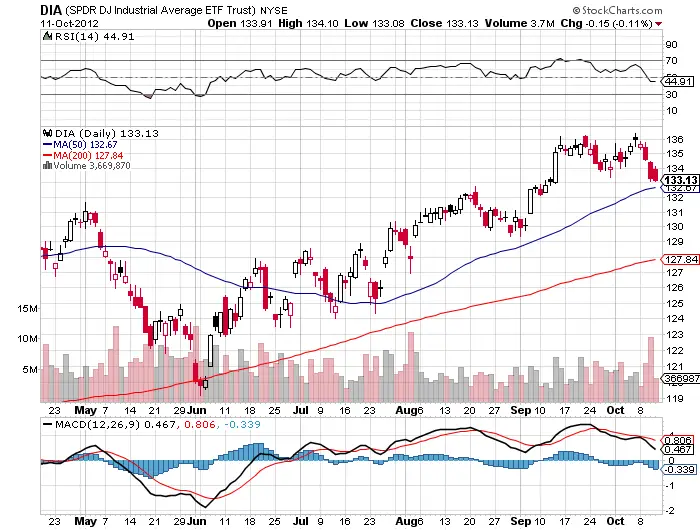 The bulls must hold the 50 day sma for the bulls to stay in the leadership role for the S&P 500.
The QQQ has its last bull stand at the 100 day ema.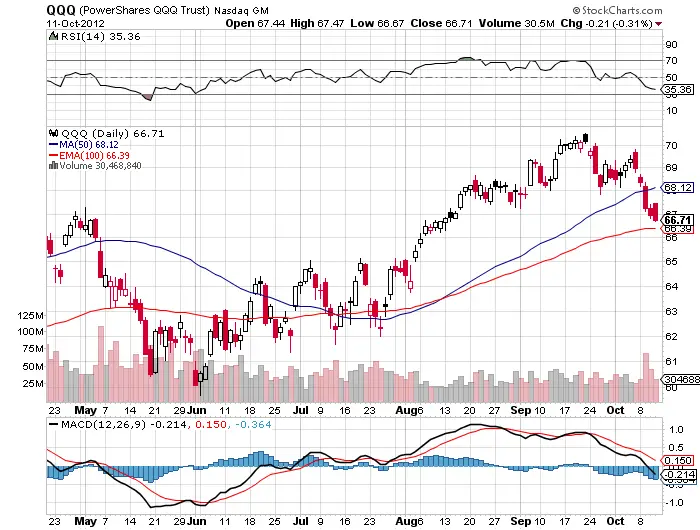 Apple must hold the 100 day ema if the bulls are going to stay in charge.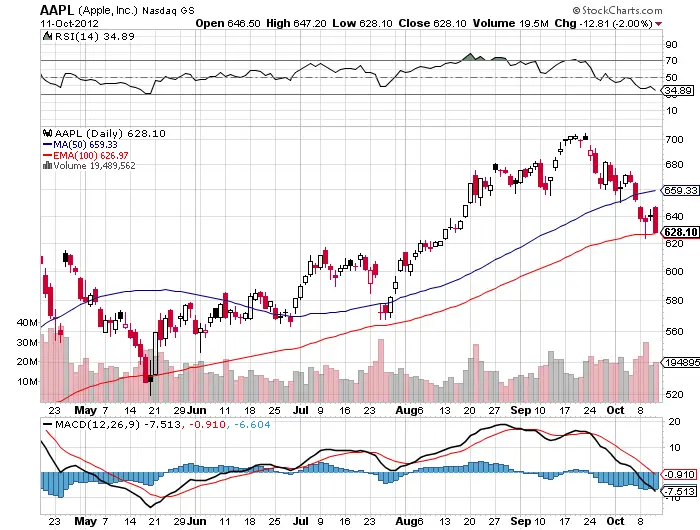 Google the markets recent big cap momentum stock must regain and hold the 5 day ema from the bears.
#1 Trader Know Thyself.
The first step the trader must under go is know about themselves.
Do you love the action of day trading or would you prefer holding positions for long period of times letting a trade play out? You must pick a style that fits your personality, position trading, trend following, option plays.,day trading, growth investing, CAN SLIM, momentum trading, break out trading, chart pattern recognition, or the Darvas method.
#2 Pick a market
Will you trade stocks, options, futures, commodities, bonds, or currencies?
#3 How aggressive will you be?
Understanding your level of risk correlates to your level of returns how much will you risk per trade? Do you have a large portfolio and want to risk a conservative 1% of capital pr trade? 2%? Will you be aggressive and risk 3% or more per trade? Are you willing to go all in on trades with some speculative money and understand that big bets can cause you to lose your whole account? Do you want to make 15%, 25%, or 50% a year? Are you willing to take the draw downs associated with that level of risk?
#4 Doing the work
Do you understand that trading is a profession like any other and requires the same level of reading, studying, and learning as any other. Like other professions you will not make money at the beginning you will instead pay in time, education, and losses of capital. Trading is the hardest easy money you will ever make. If you want to trade you will be required to study charts, read books, maybe get coaching, have a mentor, do research, and maybe attend some educational seminars.
#5 Learn to lose
In trading you have to get use to being wrong about half the time. While traders will have streaks when they are right 10 or 20 times in a row they will also be wrong 10 times in a row on many occasions. Very few other fields have successful  professionals that are wrong as much except entrepreneurs and professional gamblers. Trading is sort of like baseball batting averages where your runs batted in and home runs off set your strike outs.
#6 Master YOUR method
In trading it is more important to be a master of your method than a jack of all trades and master of none. You need a winning method that you believe in that you can trade with faith.
#7 Trading environment
Half of your success will be determined by knowing what kind of trading environment you are in. Bull market, bear market, volatile, or range bound. Also the instruments you use to execute your trading will determine your success. Your market has to fit your style. Trend traders can't trade a flat blue chip stock and most swing traders can't successfully trade a strongly trending currency.