Archive for the 'Trend Following' Category
The biggest question I have received today from everyone, new traders, friends, family, even my wife is "What will happen to the stock market if Obama wins?' or "If Romney wins will the market rally?"
How should we trade the election results? …..Don't.
Do not let the results color your trading, trade price action, trade the chart, trade your system. Continue to manage risk and stay disciplined. Take your entries and exits just like you have always done inside a winning methodology.
If Obama wins and the market gaps under support tomorrow and begins a downtrend for multiple days then it may be time to go short. If Romney wins and we gap up tomorrow and the market starts to trend upwards then it may be time to go long. If the election is too close to call then…trade the chart, trade what is actually happening not your own opinion of what should happen. The answers to how to trade the price action should be based on your methodology and the time frame you trade on not who wins the election.
Everybody wants a prediction but no one has a crystal ball, the best traders I know trade the price action not their own predictions.
Since the whole world is waiting on Apple earnings I felt I had no choice but to tell my blog readers how I see it. I have good news and I have bad news, which would you like first? Okay I will give them both to you straight.
The bad news is that no one can give you the right 'advice' on what to do, the good news is that you can have a plan before hand. If you are a long term investor with a rock solid $800 price target in 2013 you should hold, if you are a day trader you should not be involved at all, if you are a position trader it would be wise to start new positions after earnings and go in flat, if you are an option trader you can structure a trade that fits your beliefs, long, short, bet on volatility or against volatility, etc. My position will be NONE I will be IN CASH because one of my rules is not to trade through earnings due to the risk. My #1 priority is risk management not profits.
The bad news for bulls is that earnings may not meet expectations due to the older product line for that quarter the good news is that it is already priced in both in projections and the price hence the sell off.
The bad news is that Apple is already very over owned by institutions and investors, the good news is that it will be whether they hold or sell that will drive the price higher or lower.
The bad news for bulls is that Apple is perceived as too big to continue growing the good news is that it is already priced in with a decreasing P/E multiple.
The bad news is that if the earnings are the least bit disappointing the stock could fall quickly to the 200 day or even lose it, the good news is that it will be a buying opportunity at a bounce off the 200 day or a retaking of it later if it does roll over.
The bad news for bulls is that the many think Apple is done and can not continue to grow and compete, the good news is that is not how monster stocks generally go out, they go out on a euphoric blaze of glory where everyone loves them as they go lower.
The good news for bears is that Apple is under distribution an in danger of losing its key 200 day level, the bad news for Apple bears is that at a 14 P/E, $100 billion in cash, and the hottest products and infrastructure cloud in the world it will have great difficulty truly 'crashing'. True parabolic crashes come off P/Es of 40-100 during euphoric bull markets not during market corrections. And I am not a value investor I am a chart reader, but common sense dictates how to define reasonable price levels from historical data.
The bad news is that Apple has trouble making and distributing products fast enough, the good news is that every company wants that 'problem'.
The bad news is that many have tons of gloomy reasons why Apple is in trouble and doomed to fall from here, the good news is that it is nothing I have not heard since 2007 and before. Apple continues to break all the rules about what is possible. SO FAR….
My trading plan is to wait until after earnings and play the trend that emerges tomorrow with weekly options to limit my downside but capture the trend in either direction. If we fall to the 200 day and rebound I will be long with a bounce off of it (IDEAL) if we lose the 200 day I will be short while we are under it, if we gap up and break to the upside and hold I will go long tomorrow morning.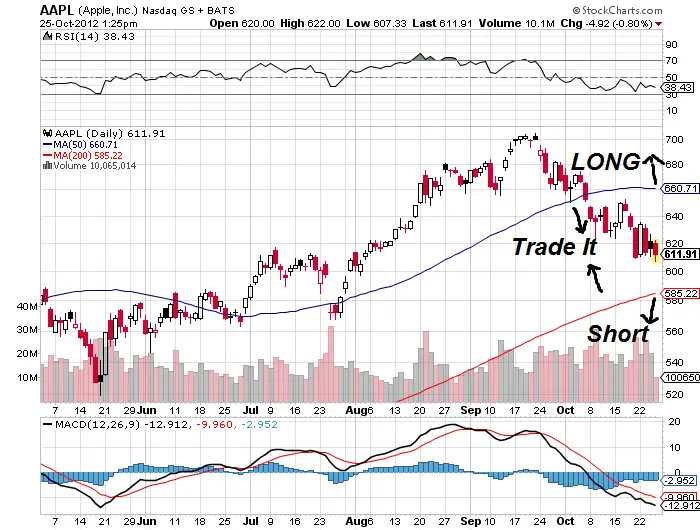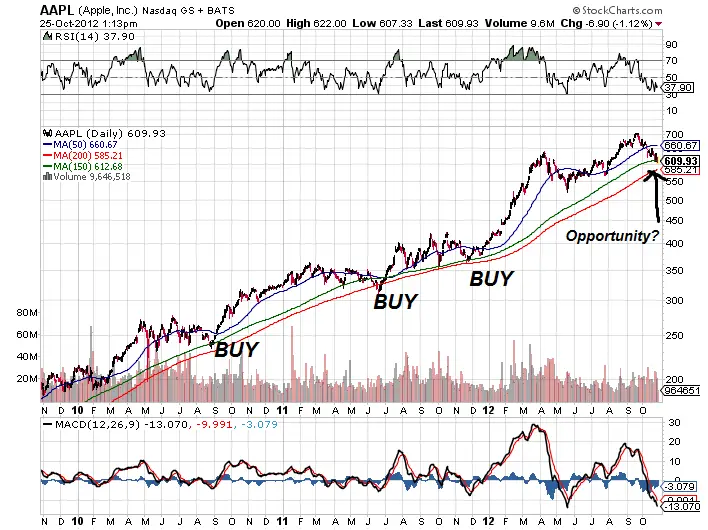 "It's not whether you're right or wrong that's important, but how much money you make when you're right and how much you lose when you're wrong." -George Soros
One element of trading that is over looked as traders chase hot stocks, trends, and chart patterns is the importance of taking trades that have the potential to be big wins OR small losses. Big losses will kill your account quickly and small wins will do little to pay for those losses. Our trades have to be asymmetric where our downside is carefully planned and managed but our upside is open ended. This is a crucial element for trading success and has to be understood and planned for.

The risk/reward ratio is used by more experienced traders to compare the expected profits of a trade to the amount of money risked to capture the profits. This ratio is calculated mathematically by dividing the amount of profit the trader expects to have made when the position is closed (the reward) by the amount the trader could lose if price moves in the unprofitable direction and the trader is stopped out.
A big secret that many rich traders know that new traders do not is that the winning percentage for even the best traders is only about 50%-60% one type of trading edge comes in having bigger winners than losers. A great formula to use is a 3:1 risk/reward ratio, with this ratio a trader is risking $100 to make $300. If 100 shares of stock are bought for $100 a share and the stop is at $99 then the stock should only be purchased if it is probable that the stock could run to $103. At a $103 share price profits could be taken or ideally if it runs to $104 a trailing stop could be set at $103 to give the stock an opportunity to be an even bigger winner. After ten trades your account could look like this:
Lose $100
Make $300
Lose $100
Make $300
Lose $100
Make $300
Lose $100
Make $300
Lose $100
Make $300
Profit $1,000 with only a 50% win rate!
However if you allow losers to run hoping they will come back and take profits quickly while they are there you can get into trouble fast.
Lose $1000
Make $100
Lose $500
Make $200
Make $100
Make $100
Make $200
Make $100
Make $100
Make $100
Lost $500 even with an 80% win rate!
Other ways to measure the ratio:
In trades you can also plan to cut your losses if the stock drops 5% while taking entries on stocks that can run 15% of more.
Another way to measure a 3:1 ratio is that you can risk 1% of your trading capital for the possibility of making 3% of your trading capital in profits.
Remember that you can cut losses even shorter if you are proven wrong before your stop is hit, but at the same time you have to allow enough room for normal fluctuations and volatility in your stop and use position sizing that you are comfortable with for your trading account size. I also recommend you to allow winners to run as far as possible, you never know when you could have a huge win with the right entry and trend.
First know how much you will risk on any one trade then do not enter a trade where the upside is not at least two or three times your risk of loss.
Charts are my best mentors and moving averages are my best teachers.
Entering into Monday Morning I am long Apple with an in the money $610 strike weekly call option but I am hedged with an out of the money $620 weekly put. Like me many traders see indecision with that doji candlestick laying right on the 100 day ema support line. This is the first time all year I have implemented a hedge and not been in a purely directional trade. But, with this option play structure I will capture the full upside of a possible bounce and run with Apple into earnings but my losses are capped to only a few hundred dollars if Apple does rollover under the 100 day ema and 100 day sma and falls towards the 200 day sma at $575 next week. From looking at the chart my belief is that the lowest we will go is the 100 day sma at about $622 that is the probable support area. The resistance level on the upside is at the 5 day ema of $636.55, if we have trouble getting over that line intra-day then it is a good place to take profits on bounces. If we break and close above the 5 day ema then that is my sign to get long with a possible change in trend into earnings. From chart history it looks like this is now a dangerous place to be short and a short covering rally could happen at any moment along with positions being taken by funds for longer term investments at this attractive price point for a value play with a 15 P/E ratio. In the long term time frame this stock is still in an uptrend and at its support level. This is the crossroads, the bottom of the uptrend or the top of a new downtrend. My bet is slanted to the upside.
I will be long with no hedge with a close above the 5 day ema $636ish currently but this target moves fast.I will ride the long until earnings if it stays above the 5 day ema.
I will hold my put option and go solely short by selling my call option with a close below the 100 day ema targeting the 200 day as the next chance to get long.
Every new trader loves to focus on entries, hot stocks, what to buy, what stock might double, and how long they want to hold their stock. Stops are a very neglected subject with new traders, the best shot many new traders give to an exit strategy is either a price target or a quick scalp to lock in small profits. The problems with these plans are many. Price targets can both cause traders to hold through large losses because they had an upside target but no down side stop due to over confidence in their own opinion. Price targets can also cause a trader to mess huge moves by cutting winners short. If this year I had a price target on Apple of $600 when it was $390 I would have missed over $100 more in price appreciation as it kept going first to $644 and after a correction to $700+.  In a trending market let a stock run as far as it will wait for a reaction to sell and lock in profits.You need big winners to pay for all your small losers regardless of your winning percentage or time frame.
One dynamic of stop losses is the percentage of your account you risk per trade. I will risk 1% of my trading account per trade in an attempt to make a 3% return on my account. With this ratio I can lose 6% with six losing trades but make 12% with four wining trades. So on average I am profitable out of every 10 trades. Of course there will be times when I have 10 losers or winners in a row, this is just how trading works but you want to use stops to limit your risk per trade so be careful with position sizing so your stops are not too tight and you give the trade some room to breath. In volatile markets you should cut losses quicker and take profits faster due to the speed of change maybe a half% risk of capital per trade and take profits at 1 and half% or 2% profits. If your trading account is $50,000 then the 1% I am talking about is $500 and 3% is $1500. The percentage is of your trading capital not the movement of the stock.
When you are in your favorite stock when do you sell for a profit? And when do you get back in once you are out? One short term indicator I use to get out of a trend trade is the 5 day exponential moving average, when a stock is in a trend making new highs above this line it is a high momentum uptrend, below it is a possible loss of momentum. Watching how a stock closes the day is the best way to really read the final word by traders on the trend. I use a close below this line as a signal to take profits, staying beneath this line is a signal to me the momentum may be changing and it could be time to play the short side until the stock reaches support at high value moving averages like the 21 day ema, 50 day sma, or 100 day ema these areas are where bounces happen many times.If these levels are lost it is the signal to stay short. You have to know where you are getting out before you get into any trade.