Archive for the 'chart reading' Category
I do not look at weekly charts much but when I do it is for a very important key support level. When under the 200 day moving average it is more difficult to find obvious support levels for stocks, most traders look at trend lines or price levels, I look at moving averages, and I found a strong one on the weekly time frame that I posted on my blog a few days ago, and since then the stock has arrived at that level and found support.
On the weekly chart Apple is now pegging the long term 50 week simply moving average that has held as support for the past three years. It held up right at this level yesterday and is above it in the pre-market. This is an incredibly high probability entry that I will be taking.
We are now at short term support levels and if they hold I will be buying here.
Here is a chart I posted a few days ago on my Blog, since then we have traveled to this support level and held.
Well it was a wild day today, shorts did very well, longs got clobbered, traders coming into today in cash were pleased with their position unless they went bottom fishing. It was a strange 24 hours with futures gyrating over night deep in the red then it recovered and we had green in the equity premarket  that was erased as the open drew near. The we had a crash then recovery, then flat line. it was a tough day for most. Here are my thoughts for what the charts are saying to me after todays action.
I am actually looking to go long Apple tomorrow, while my primary trading is trends this is way oversold and stretched far away from the 5 day ema. Looking at this chart below you will see that Apple tends to return to near its 5 day ema regardless of it being an uptrend or a downtrend. We are looking at a possible 18 point snap back Thursday or Friday. I would love the opportunity to buy a gap down tomorrow morning. the risk/reward on apple is now in the favor of bulls and shorts are in danger of a nasty snap back to the 5 day ema in the next 3 days at some point.
The Dow Jones Industrial Index put up a fight at the 13,000 point mark today but it was eventually lost. The Diamonds found support at the 200 day for a bounce. The Diamonds opened at the 5 day ema and it was all downhill from there.
Spy opened at the 5 day ema and never looked back. It is a high probability it will test the 200 day like the other indexes have. I will look to possibly go short at the 5 day ema and long at the 200 day.

The QQQs cut through the 200 day with ease and found support around the round number $64. Look for possible rebounds back to the 200 day that is where I will look to go short.
The biggest question I have received today from everyone, new traders, friends, family, even my wife is "What will happen to the stock market if Obama wins?' or "If Romney wins will the market rally?"
How should we trade the election results? …..Don't.
Do not let the results color your trading, trade price action, trade the chart, trade your system. Continue to manage risk and stay disciplined. Take your entries and exits just like you have always done inside a winning methodology.
If Obama wins and the market gaps under support tomorrow and begins a downtrend for multiple days then it may be time to go short. If Romney wins and we gap up tomorrow and the market starts to trend upwards then it may be time to go long. If the election is too close to call then…trade the chart, trade what is actually happening not your own opinion of what should happen. The answers to how to trade the price action should be based on your methodology and the time frame you trade on not who wins the election.
Everybody wants a prediction but no one has a crystal ball, the best traders I know trade the price action not their own predictions.
As the U.S. presidential election approaches the market is in "wait and see mode" with key resistance and support levels. While it is possible to trade these ranges for those that have the desire to be active there is always the option of waiting in cash for a trend to develop, I suspect after the election results are out (hopefully Tuesday night) we will see a trend emerge, the market can go either way but we are at some key support levels and are oversold by many measurements. Stay vigilant, manage risk, and be ready to make some money. Here are the current levels I am watching for break outs to happen.
The SPY has buyers at the $140 level but sellers waiting at the 50 day line.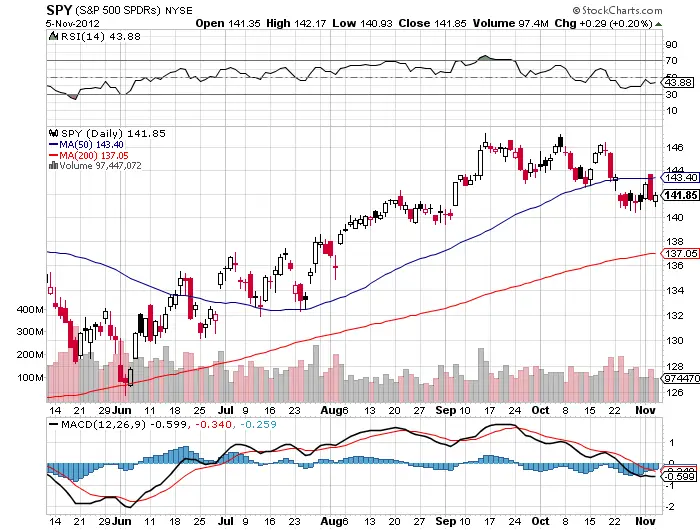 The Diamonds ETF has great support at the $130 level but ran into resistance as it approached the 50 day moving average.
Current support for the QQQs is at the 200 day moving average so far buyers are accumulating at that level. A close below that level is a signal of a true downtrend may be emerging.The 20 day moving average is also a near term resistance.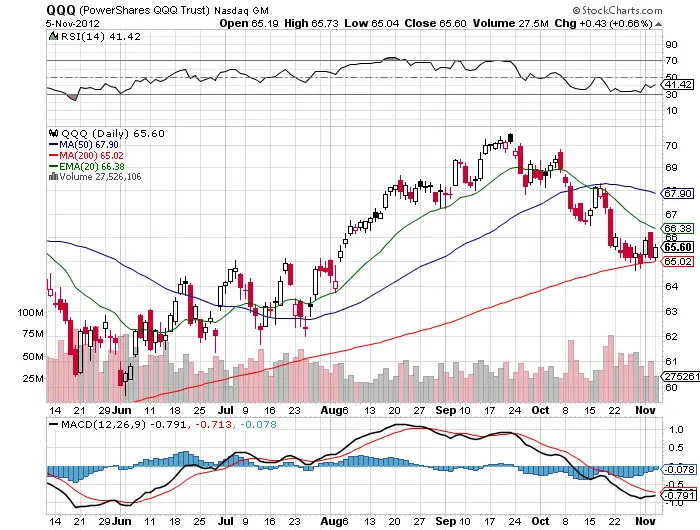 Apple has a new resistance level at the 200 day moving average after today. The 5 day ema has been resistance for over a month. I need to see these two levels broken and held to get bullish on a reversal play.
Let's get some perspective here before we believe Apple is going out of business or that the stock is going to $300 or a 6 P/E ratio.
The indexes are holding up very well, the $QQQ is at the 200 day support, The $SPY is holding up at $140 like a champ, and the $DIA is supported at $130. We are in a base not a downtrend in the short term time frame. The market is not currently making lower lows.

The sentiment has become very bearish for Apple on social media this is one sign that most have sold out.

As with all its products since the iPod the doomsayers say that the iPad Mini is weak and just a knock off of the iPad and the iPhone 5 is not innovative enough, I hear the exact opposite from everyone who has purchased either of them, just like with all the other products.

While there is a lot of nervousness around the election and another 4 years for Obama that does not change Apples absurd earnings power and ridiculously low fundamental valuations.

If Apple was trading at a 100 or 50 P/E then I would be fearful of a plunge, but not at a 13 P/E with another block buster Christmas earnings ahead of it.

Apple is not just another tech stock it is a monster stock, the best buy points for monster stocks tend to be at a bounce off the 200 day or a break back above it.

Apple is absurdly oversold at this level by every indicator, the downside risk is minimal compared to the upside gain potential. The $560 price area is a key near term support level, $550 is a support level at the 50 week simple moving average that goes back to April of 2009.

It is very dangerous to short at these levels due to the possibility of snap back rallies at any time they can be quick and vicious as sellers stop selling for lower prices and buyers rush in and bid up the stock.

How many people wanted Apple at the 200 day so bad during the early year run but now when presented with the opportunity are scared irrationally of it being over as a valid growth stock. If this is not the end of the story for Apple then this is the buying opportunity everyone has been waiting for. The odds are that this is not the end, just a rest period before it returns to all time highs just for fundamental valuation reasons.

Of course trade this stock with a plan, have a high probability entry like the $550 or $560 areas after a bounce or a break back above the 200 day moving average.

I look for the 200 day sma to act as a first level of resistance and a place to take profits on a day trade or where this may be a short entry point for a day trade. The $600 price level will likely act as the second level of resistance, the century marks are places where traders like to take profits and put on new short plays.

Apple is THE best stock to play options on due to their liquidity, plentiful price strikes, and weekly options
I am not letting this opportunity pass me by, investors, option traders, growth stock investors, and day traders should all have this on their watch list and trade or invest with it based on their own methodology with out being blinded by FEAR.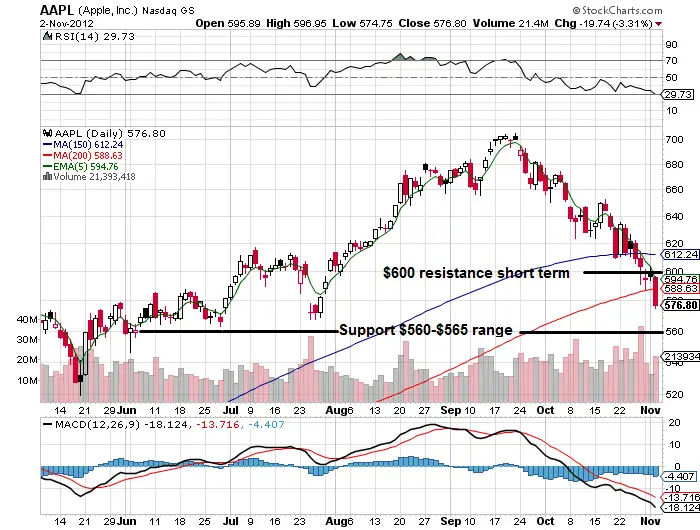 Another interesting possibility if the bears really roar is the very long term 50 week moving average in the $550 area on the weekly chart, this level has not been  breached since April 2009 around the bottom of that bear market.