(MrTopStep Exclusive) One of the original "Market Wizards" in Jack Schwager's classic best-seller, Marty "The Pit Bull" Schwartz is one of the few of that reclusive group to speak publicly and candidly about his trading experiences, his philosophy, and his life. Rarely have any of the original Market Wizards given even a brief interview, let alone allowed a video to be offered to the public. As in most areas of life, Marty Schwartz is the exception to the rule.
"The 10 day exponential moving average (EMA) is my favourite indicator to determine the major trend. I call this "red light, green light" because it is imperative in trading to remain on the correct side of a moving average to give yourself the best probability of success. When you are trading above the 10 day, you have the green light, the market is in positive mode and you should be thinking buy. Conversely, trading below the average is a red light. The market is in a negative mode and you should be thinking sell." – Marty Schwartz
"I always laugh at people who say "I've never met a rich technician" I love that! Its such an arrogant, nonsensical response. I used fundamentals for 9 years and got rich as a technician" – Marty Schwartz.
"I've said it before, and I'm going to say it again, because it cannot be overemphasized: the most important change in my trading career occurred when I learned to divorce my ego from the trade. Trading is a psychological game. Most people think that they're playing against the market, but the market doesn't care. You're really playing against yourself. You have to stop trying to will things to happen in order to prove that you're right. Listen only to what the market is telling you now. Forget what you thought it was telling you five minutes ago. The sole objective of trading is not to prove you're right, but to hear the cash register ring."

- Marty Schwartz
"I have stated before that whenever your worst fears are not realized about a trade and the market is letting you out better than you expected, it is not just luck. Rather your position is most likely correct and should not only be held but perhaps added to." 

- Marty Schwartz
"I'm more concerned about controlling the downside. Learn to take the losses. The most important thing about making money is not to let your losses get out of hand." – Marty Schwartz
This is a bull market, while so many are concerned about the huge move off the March 2009 low they need to also consider the market went no where from 2000-2012 and this could be just the beginning of a new secular bull market. There are no facts that can begin to 'predict' a huge correction. Anything can happen but I am trading what is happening now. 

It is possible to have a bull market that is not a bubble. Bull markets can go on longer than most imagine.

Momentum tends to produce more momentum in the same direction until acted upon by a new catalyst.

There have been no long term shorting opportunities all year only short side scalps available but they had to be opened into strength and profits taken into weakness.

The RSI has flat lined under the 70 ceiling this could lead to a slow grind up and if the 70 is closed above it could signal a parabolic move up started by forcing a lot of short covering.

Many times a market can drift upwards simply because of a lack of sellers, currently no one is willing to part with their $SPY holdings under the 5 day ema for the past six trading days.

The concern for the bulls is that there is so much profit taking as the $SPY tries to trend up. The market needs a catalyst for another leg up and it is healthy to form a nice price base here to burn off some of the overbought conditions after moving so far so fast.

For 35 trading days the 20 day has held as support so bulls should have no concern for what the bears say about a correction until that line is broken and closed beneath at least.

Buy the dip is still a very good strategy here given the opportunity at the 10 day or 20 day.

If you look closely the last seven trading days have made higher highs than the previous day and the past six days have made higher lows, that is the definition of an uptrend.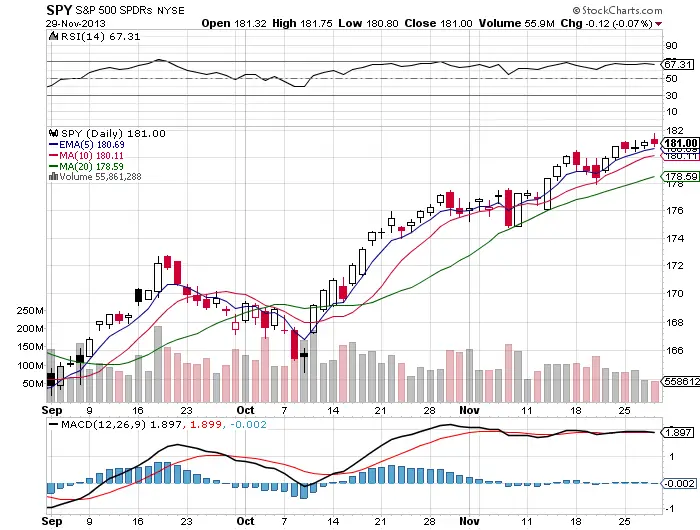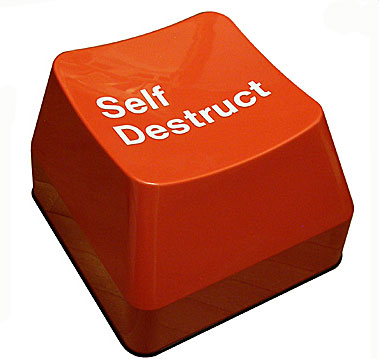 Being a Know-it-all: Wanting to be right about everything more than wanting to make money is very unprofitable. It is difficult for many professionals from other fields to take a beginners mind in this new endeavor of trading.

Not having patience: Trading is a long process of study, testing, mentoring, and live trading you have to see it through from beginning to end to reap the benefits.

Trading out of fear: Fear makes traders miss entry signals and get our of winning trades too early.

Trading out of greed: Greed makes traders trade too big and risk too much which causes them to give back their profits over and over.

Lacking confidence: It takes faith in yourself and faith in your method to produce long term profits. The faith comes from proof in studying the markets and trading your system.

Lack of discipline: The inability to consistently do the continual work and trade a system is lethal to a traders success.

Looking for the Holy Grail of trading systems: If new traders spent as much time developing a robust trading system as they did looking for a can't miss method they would have a much greater chance of survival.

Wanting to get rich quick: Is a very fast track to blowing up a trading account.

Never being able to grasp the concept of reacting to what is happening instead of being obsessed with predicting what will happen. There is a big difference between starting with a prediction and working backward instead of starting with a signal and working forward and it is called consistent profitability.

Egomaniac: Trying too hard to prove how great you are as a trader instead of actually focusing on real trading.
The Directions say. "Let the bird chill in the sink a little bit" pic.twitter.com/zEBAGj6SGD

— Scott Redler (@RedDogT3Live) November 28, 2013
The Secret Sauce of Success–> pic.twitter.com/qyLykMCXQV

— Steve Burns (@SJosephBurns) November 28, 2013
Former Fed Chairman Greenspan Sees No Bubble at Dow 16,000 – NOW I'm worried… http://t.co/3k2B2InxUD

— Aaron Task (@aarontask) November 27, 2013
BREAKING: Stocks stage pre-Thanksgiving crash as S&P 500 shockingly moves to the flat line. #flatisthenewcrash $SPX

— Michael A. Gayed,CFA (@pensionpartners) November 27, 2013
Overconfidence->the most dangerous state of mind anyone can develop on Wall St

— Andrew Rocco (@AndrewRocco1) November 27, 2013
Be occupied by now and next shoulda, woulda, coulda are a drain on emotional capital.

— Sunrise Trader (@SunriseTrader) November 27, 2013
@SJosephBurns but they said the fed was tapering? They said we were overbought? They said it surely couldn't go higher…they said

— Andrew Rocco (@AndrewRocco1) November 27, 2013
@pensionpartners I give thanks to three word "low interest rates"

— W Gregory Rose ddspa (@WGregoryRoseDDS) November 27, 2013
@SJosephBurns old chinese proverb….."money doesn't change you, money unmasks you"

— Pearlstein (@zoloftrader) November 27, 2013
$AAPL– there is nothing like its options..Volume + Volatility pic.twitter.com/kQ3zJwtIht

— DK1 (@canuck2usa) November 26, 2013
Private E-mail: "Any trading tips?" Me: "Yes, don't take trading tips."

— Trade Like a Casino (@TradeLikeCasino) November 26, 2013
I'm checking out $AMZN #MobileTrader. But they have a crazy high P/E. Lmao follow price period. pic.twitter.com/jBQ8WBI46j

— DK1 (@canuck2usa) November 26, 2013
@SJosephBurns & of course there will b another bear market the only question is when & how will one react #TradePrice #RiskManagement #Rules

— Gary Manzano (@ManzanoStudios) November 26, 2013
What he means is that there will be a TON of set ups…..the best traders only take the BEST set ups

— Andrew Rocco (@AndrewRocco1) November 25, 2013
Good trading is about subtraction not addition- Glenn Dahlen

— Andrew Rocco (@AndrewRocco1) November 25, 2013
Nuclear Deal reached with Iran. Gas prices going to $0.

— Jason Freeman (@ChartLearning) November 24, 2013
@AndrewRocco1 @GeorgeManiereg Yes, different chart time frames have different meanings. Day traders make a living off what I see as noise.

— Steve Burns (@SJosephBurns) November 23, 2013
@SJosephBurns cant teach old dog new tricks… Bull #BTFD Bear #STFR

— DK1 (@canuck2usa) November 23, 2013
Why are we trying to figure out these markets anyway, the Bernanke policies aren't going anywhere anytime soon. Just btfd, it's that simple.

— Mella (@Mella_TA) November 23, 2013
Traditional valuation metrics and 'fundamentals' take a distant backseat to liquidity. Price action reflects supply and demand, not value.

— SystemsTrader95 (@SystemsTrader95) November 23, 2013
Risk markets trade much more off liquidity than 'valuation'. Any talk of 'valuation' may be entertaining but is of no trading value.

— SystemsTrader95 (@SystemsTrader95) November 23, 2013
Well, have spent much of the day doing some very productive research. Amazing how one can take a small part of… http://t.co/IFYfJfloVj

— The Chartist (@thechartist) November 23, 2013
@SJosephBurns @R2RayCFreeman will be interesting to see if he marks the bottom #capitulation of strongest bull

— Dr. Paul DeSantis (@DrPaulyDeSantis) November 23, 2013
"It's basically impossible for most individual traders to trade the news, which for the most part is old information by the time it's publis

— Andrew Rocco (@AndrewRocco1) November 23, 2013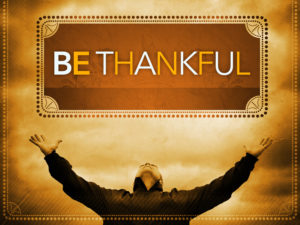 Top Ten Things Equity Bulls Have to Be Thankful For in 2013

Two words: Quantitative-Easing. All the money has to go somewhere in with bond yields so low equities are the place to be.

The "Bernanke Put Option." Bulls Bernake has your back, he is willing to do whatever it takes to keep the up trend flowing gin equities.

"Janet Yellen" appointment the "Dovish Bull Part II." She is willing to keep the bull party going.

A 13 year break out of the S&P 500 index. A new Secular Bull Market Perhaps?

Even the biggest bears are starting to capitulate and say they were wrong.

The financial world did not end in 2013.

Central Banks are coordinating with each other to keep the world stock  markets supported and liquid.

Printing presses. Who cares about debt when we still have ink and paper left?

Inflation pushes up prices that increase earnings that expands P/E ratios naturally so stock prices can go higher based on earnings.

In a year where the S&P 500 is up 27% all you have to do is trade the long side to be profitable. Trend traders, trend followers, swing traders, perma-bulls, buy-and-holders, investors, and call option buyers should all be very pleased with their returns this year if they simply traded the long side of equities as an asset class.

 
Be patient with winners letting them go as far as they can but be impatient with losers exiting when you are proven wrong.

Be confident in your methods and system but doubt any single trade until it turns into a winner.

Have complete faith in yourself being a successful trader but have no confidence in the market behavior, anything can happen.

Leave the potential for profits open ended and let them grow large when given the opportunity but ensure all losses are small.

Only date your stocks but marry your risk management.

Learn all you can from mentors but only trade your own trading plan.

Be open minded about where the market is going but be close minded about your trading plan and just follow it.

Work really hard to learn how to trade when the market is closed but trade only when your entry parameters are met when the markets are open.

Have what ever opinions you want but only trade price action.

Be open minded on how you will make money in the markets until you find a system that fits your personality then be closed minded and follow it.

                                                                                                                                                                                                                                                                                                                 Today's blog post comes straight from a great discussion out of our facebook trading group New Traders, Rich Traders, & Good Traders. Thanks to Andrew Rocco for the original post and also Matthew Smith,and Travis James for their insightful comments in our trading group.
Here Are The Ten Common Mistakes New Traders Are Making:
Not researching who they are versus how their system works. A trader can only trade a system that matches their risk tolerance and market beliefs.


They like following others into trades. A trader can not copy others because they usually don't know the time frame of the trade, the position size, or the stop loss level.


They lack  risk management. With out risk management new traders just give back all their profits during their next losing streak or blow up their account with a few big bad trades.


Using leverage and margin. New Traders seem to only imagine the big potential profits of using leverage in options and futures or margin and not the risk of amplifying a loss.


Selling too soon for no reason other than to "take profits". New traders tend to like to take profits fast to lock them in but let losses run and hope they come back to even. They primary way to be a profitable trader is to have big wins and small losses.


Caring too much about the short term noise. Ignore the noise in your time frame and only focus on the actual signals that really tell you it is time to enter or exit.


Over trading or

revenge trading. New traders tend to think that all activity is good, only the right activity is good. Never trade in anger trying to get back money that you lost. Money only returns to you by following a robust trading system.

This year one of the most profitable systems with the smoothest rides has been simply to buy and hold an equity index. Even the big cap S&P 500′s $SPY ETF is up almost 27% at this point. I am sure there are many new traders that were rewarded for simply being biased to the long side. Buying the indexes when they were falling knives always worked out if they held on to the trade and didn't cut their losses. They bought new highs and were rewarded with more new highs. They traded too big on the long side and just made more money for taking on the risk. I am sure their are some young  equity buy and holders that have only been in the markets since 2009 that are wondering why everyone just doesn't buy and hold  mutual funds because they perceive that they always go up. This year buy and hold has been in favor and they have even beaten many good traders in their annual returns but let's keep this in perspective. The bulls that received their profits this year because of luck need to learn how to trade because trading profits that come from luck return to their rightful owners very quickly when the luck runs out.
The dip buyers and perma-bulls of 2000-2002 and 2008 had a much different experience than the class of  2013.

The buy and holders that entered in 2000 and 2007 had much different experiences as well. The 2000 buy and holders had zero gains twelve  years later in 2012. Buy and holders at the beginning of 2008 had to take a 50% draw down and stayed under water until 2012.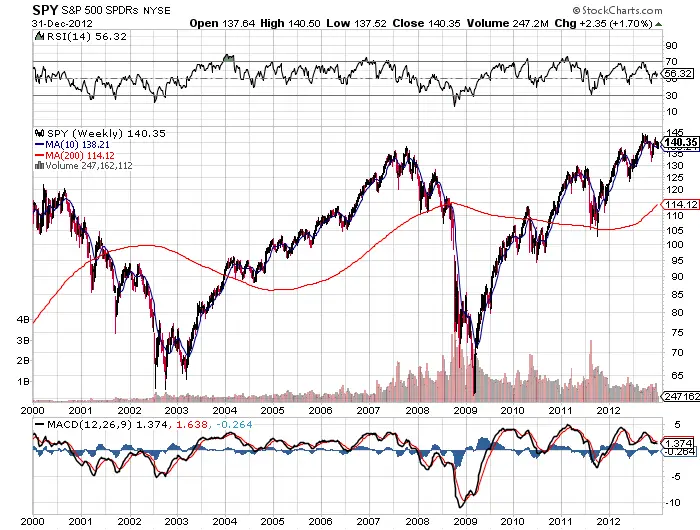 Well, 2013′s most robust strategy has been simply to buy and hold an equity index. This whole year has been nothing but a big  massive break out of the 2000-2013 trading range and a very hated bull market all year. This whole year's equity market has simply been all about swing trading off bounces inside price dips and buying break outs of indexes, which I have been doing. Yes, it can go higher, it is important to focus on price action and avoid opinions of what should be happening. This is year has been about money flowing into equities as an asset class thanks to the FED keeping the punch bowl full. 2013 was a 13 year break out to new highs and it hasn't even looked back yet.
Here is the 10 year chart:
Here are ten facts about the daily chart at this point.
We broke out of a 6 day range to new all time highs again with no pullback to speak of, very committed holders at these levels.

The 10 day sma held as support last week and has not been breached for seven trading days. Very strong trend.

Bearish divergences did not seem to matter so far.

RSI close to 70 again so the odds are for a slow grind up, we could go parabolic but the odds favor a slow trend up.

The 5 day ema is primary support and the 10 day sma is secondary support.

I would not attempt any longer term shorts here in this strength the odds are against it, the 20 day is still very strong support and has held up since mid-October.

Next week should be low volume with most big players enjoying time with their families and the trend that is in place just continuing.

The up trend and momentum of this market should continue unless their is some catalyst to change that which is unlikely. It will be interesting how the market expresses the Iran negotiation news when the futures open tonight.

All indexes and sectors are back giving the green light for higher prices $IWM $QQQ $DJIA $XLF.

When all the current holders are happy and reluctant to sell that is when the BIG moves happen, bears need to be very cautious hear adding anymore fuel to this bearish fire. Only the most skilled traders can effectively scalp shorts and win against this type of  momentum.

There is a big difference between a bubble and a bull market. As a whole this market is far from a bubble.

The money all year has been on the bullish side buying the dips, the rips, the flips, and betting your chips on the bulls and there is no sign of that stopping anytime soon.

                                                                                                                                                                                                                                                                                                        I do not think traders really start making money until they really mature as traders and understand the big picture. I have been on this journey myself and went through the wild excitement of the the internet bubble, day trading and the experience of making a few hundred dollars in a few minutes the first time and the delusion of the get rich quit trading scheme and the expectations of multiplying an account within a year. The game of trading has large amounts of money flowing through our accounts and can give rise to emotions that make us act immature. We can easily become deluded and go down the wrong road, let's stay on the right road.
How To Be  A Grown Up Trader:
Quit believing all the BS of people promising you will be rich if you just sign up for their newsletter, seminar, or join their premium service. Look for realistic resources to learn. The more hype the more the probability of it being BS.

Quit thinking you are going to double your account in less than a year, even if you do that just means in almost all situations you are taking on too much risk. If you can achieve a 20%-25% annual return then you are among the best traders in the world, Soros, Buffet, Paul Tudor Jones, and even Bernie Madoff.

If you do not know what your edge is then you do not have one, do not trade until you figure it out.

If you have to ask others what they think you should do on a trade stop trading and develop a trading plan. A great way to be in the 90% of traders that lose money is to just trade your opinion.

If your search is for "Hot Stock Tips"  then stop looking for tips and start learning a trading methodology.  Silly trader tips are for waiters, entry signals are for serious traders.

Stop getting so excited about one winning trade, you may give back the profits on your next trade. You should be trading a positions size where every trade is just one of the next 100 and has little impact on the big picture. If you see a trader celebrating after one winning trade like they just won the super bowl they either don't have very many winning trades or they are trading way too big and risking too much.

Stop thinking you can trade for a living with a small five figure account. Think multiple six figures if you want to maintain a decent lifestyle.

If you are more concerned with making money than risk management and managing your emotions you will eventually be in trouble.

Stop confusing one good stock pick or a bull market with being a great trader, we don;t know if we are really good and able to execute our method until we are tested in bull, bear, and sideways markets. Also we have to see if we can come back from a drawdown and survive a 1987 Black Monday or a fall of 2008. Then we might be able to pat ourselves on the back.

If we are not willing to put in the serious work of learning how to trade we simply won't make it. We will only get back in profits what we put in with effort and that could still take awhile.