Volatility expanded as $SPY went from all time highs to the 21 day ema in one day wiping out four days of gains in one session.

Holders of $SPY took the opportunity to sell into the rally Friday after non-farms payroll.

$190 $SPY was the dump zone, that is where bulls locked in profits. The $SPX 1900 was a target by some great Elliott Wave technicians and it proved to be the target everyone was waiting on.

Buyers did step in at the 21 day ema to support the plunge.

Most expected a rally into the close with shorts covering not wanting to hold going into the weekend but this did not happen.

Momentum stocks like $GOOG $TSLA $FB $LNKD and $PCLN were dumped for huge percentage losses. This is how a late stage bull market acts.

Utilities, energy, and gold some of the only green on the chart Friday which is sign of sector rotation of capital.

If the 21 day ema is lost the 50 day is the next level of best support and a potential bounce zone.

Look for the 5 day ema as potential resistance level for rallies.

Look at prices to hold up and bounce at the 30 RSI if we tumble down that far.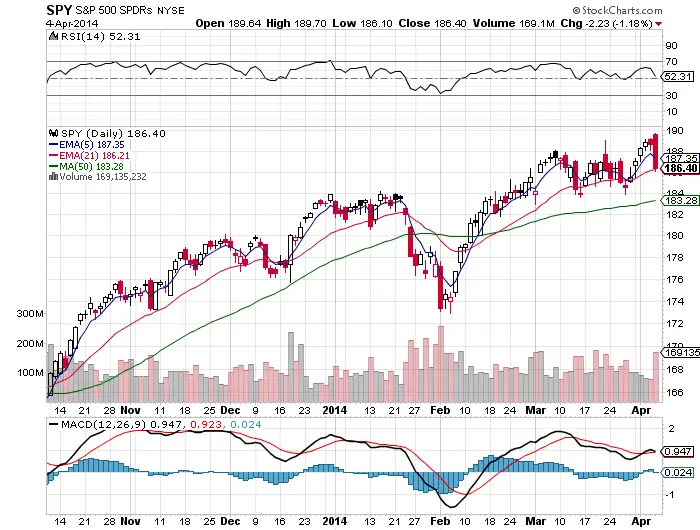 That brick wall at S&P 1880 looks different in the rear-view mirror. pic.twitter.com/aKclYUbMjN

— Christopher Ebert (@OptionScientist) April 2, 2014
The HFT lobby's rebuttal to this Sunday's 60 Minutes on how HFT rigged markets will take place shortly after. It will last 1 millisecond

— zerohedge (@zerohedge) March 29, 2014
When the market is correcting you want to stay away from Growth Stocks…I only traded ETFs this week > @SJosephBurns @systemstrader95

— Mr. Breakout (@sharptraders) March 29, 2014
@SJosephBurns $SPY I will remember it as "The April's Fool Pump 'n Dump Failed Rally"

— Tim Norton (@TimNorton11) April 4, 2014
@SJosephBurns The switch is broken…

— Greg (@halls344) April 4, 2014
Don't you guys see what's going on. We talked trash about HFTs all week, now they are destroying the markets. Let this be a lesson to us all

— Jason Freeman (@ChartLearning) April 4, 2014
The best way to not be hurt by high frequency traders is to be a low frequency trader.

— Steve Burns (@SJosephBurns) April 3, 2014
I have no opinions about markets or positions – I just follow lines on a screen – Makes things simple

— LM_Tentarelli (@systemstrader95) April 3, 2014
"Most people approach trading to make a lot of money, and that is one of the primary reasons they lose." – Dr. Van Tharp

— Andrew Selby (@DontTalkStocks) April 2, 2014
Nothing worse then sub services retweeting their members amaze ball trade tweets $Tacky

— Mella (@Mella_TA) April 2, 2014
@SJosephBurns @tradingmemes the only thing your list didn't have was my name.

— Pearlstein (@zoloftrader) April 2, 2014
"If I can't get over the emotions of taking a loss in 24 hours, then I'm trading too large or doing something else wrong." – Gil Blake

— Andrew Selby (@DontTalkStocks) April 1, 2014
If I ever hear you blame someone for your misfortunes or play the victim, you can't be a part of my circle as I associate only w/ winners.

— Sean T. Carter (@SeanTCarter) April 1, 2014
@zentrader divorce in 3…2…1

— Jason Freeman (@ChartLearning) March 28, 2014

Thanks to Doug Gregory @sharptraders for getting many of these follows

together on a list for his twitter account

.
I have been wanting to do this blog for a long time and he made it easy.
Here are the top accounts CAN SLIM style investors/traders and Investor Business Daily readers can follow on twitter to create a great tweet stream that will give them high value information about their method and the stocks to watch and principles to follow for investing in the right ones at the right time.
Mr. Breakout

@sharptraders  Trade What's Happening…Not What You Think Is Gonna Happen

Sacramento

·

SharpTraders.com
Investors.com

 @IBDinvestors Investor's Business Daily provides leading stock market news and analysis, powerful investing products and education to help investors make money in the market.

Los Angeles, CA

·

investors.com
MarketSmith

@MarketSmith  Official Twitter account for MarketSmith, Incorporated. All content is for educational purposes only & should never be considered investment advice.

Los Angeles, CA

·

marketsmith.com
@WScottONeil

President of MarketSmith & portfolio manager at the O'Neil companies. This account reflects personal opinion & should never be considered investment advice.
Top Stocks

@TopStocksToday Official Twitter account for Top Stocks by MarketSmith. Content is intended for educational purposes only & should never be considered investment advice.

topstocks.marketsmith.com
Ed Carson

@IBD_ECarson Ed Carson is News Editor at Investor's Business Daily, overseeing IBD's business, economics and political coverage. @IBDInvestors

Investors.com
Anish Sikri

@anishsikri Stocks, IBD, Leadership & My book is listed in Bill Gates Top 10 Summer Reading List

http://

ow.ly/d44Fa

 

& Dominate the Market

Washington, DC

·

meetup.com/thedistrict
Gilmo Report

@gilmoreport Gil Morales is the co-author of Trade Like an O'Neil Disciple: How We Made 18,000% in the Stock Market and is a former Chief Market Strategist for Bill O'Neil

California

·

gilmoreport.com
Andrew Rocco

@AndrewRocco1

follows you

CANSLIM investor at Lincoln Capital. By day, I am an avid spoon collector, ventriloquist, and florist. #Darvas #Livermore #O'neil
@IBDMeetup

Director of IBD's investor outreach programs which include; The IBD Meetup Education Program, IBD's retail trade show programs & IBD's social media programs
Before you spend any money on anything related to trading ask yourself this question. "Am I buying into hope in a magical trading system or am I learning to trade on my own?" The best trading teacher you can have is one that has the goal to train you in a way that you will eventually no longer need a teacher, the worst thing you can buy into is service that seeks to make you dependent on them permanently. You want to graduate from school not live there. You want your mentor relationship to eventually evolve into a friendship and become peers not allow your mentor to become an infallible guru that you pay the rest of your life.
There are professionals that have track records managing real money that consult with corporations and  train the companies' traders. These are the best of the best training in all the key areas of trading, risk management, liquidity, seasonality, risk of ruin, trader psychology, market making, risk/reward ratios, system development and back testing along with all the other areas needed for market makers, hedgers, and producers of commodities along with how to generate alpha for a firm. The best of these trainers are not academics but practitioners.
The worst of the worst people to learn from are the fakes in social media and online. These people are not even profitable traders but run a 'business' that makes money only from subscribers. I highly doubt they even trade due to the lack of knowledge they seem to have about the key core concepts that make trading profitable like risk management, psychology, and position sizing and many other things that if you mess a key area you will never make it as a trader. They are the newsletter writers or chat room operators that flood their subscribers with 'picks' then they are quick to announce their winning 'picks' from the roof tops as they hide their losing 'picks' under the rug. It is surprising to me how little I ever hear of any successful subscribers stories, most are just short blurbs from subscribers after a short winning streak on the newsletter writers site.
Another alarming thing I see is one outspoken snake salesman that touts his two successful millionaire trading students. Now this is someone that has had students for at least seven years and likely thousands and thousands of students. Two winners can be attributed to randomness and taking on way too much risk. Also he never says 3,000+ other students blew up their accounts which is what I suspect. If you are going to brag I am impressed with statistics of subscribers or how a model portfolio performed not just spouting noise to trick the masses.
Now before the hate messages start flowing my way I will say there are also newsletters that know who they and are giving picks for a defined system. Some traders like them becasue they do the work for them of finding entries, signals, and patterns that they are looking to trade anyway and it is a complement to the writers real trading. I have no issue with these services and some of my friends do this. My concern is not with the professionals that teach real trading or real traders that piggy back their real trading with services, what I am speaking out against is the frauds, scam artists, and paper traders that play make believe and take subscribers money.
There are two things people Are selling In the trading world: One group are selling their services to teach people all the things they need to know to become traders and the other group is selling hope pushing paper trading picks promising an easy path to big money that does not exist in this world because if it was as easy as many of the fakes pretend trading to be they would be billionaires not selling $29.95 monthly subscriptions on social media.
"As my lovely old Dad always told me, trust those who promise the least." – Neil Sims



"
There is only one side of the market and it is not the bull side or the bear side, but the right side." – Jesse Livermore
Be a bear in a bull market.

Keep shorting a bull market and see what happens. LOSSES.

Wait for a deep pull back that never comes as the market goes higher and higher each day. Then chase at the end of the move.

Buy puts and sell them for a loss over and over.

Keep betting on a market meltdown as the indexes make all time highs over and over again.

Buy $VXX  $TVIX and $UVXY and see what happens. LOSSES.

If your trading plan is the "the market just can't go higher" you're going to have a bad time.

Short in the hole right at resistance. The bounces are brutal.

Have a bearish opinion, keep a bearish opinion, trade a bearish opinion.

Being a stubborn perma-bull instead of a flexible trader.

Ten Things For Traders To Look For On Social Media
Look for a trading teacher not a trading guru.

Look for real traders that are actively trading real money not active salesmen looking to take your money.

Look for traders that like to have fun and are laid back and beware of traders looking for an argument.

Look for a friendly way to exit an argument that is creating no value for you.

Look for the best trading resources: tweets, books, videos, and what others are recommending.

Look out for fakes, frauds, con-artists and imposters, you have to be very careful who you trust. Build friendships before you trust.

Look for traders that trade like you do that can help you make good adjustments to your own trading methodology.

Look out for great traders that trade differently than you do but are successful and see what you can learn from them.

Watch and see what side of the market the vast majority of traders are on, that is usually the wrong side.

Look at charts that others share and see if you can learn from them.
Long term trend in place as a bull market.

Intermediate time frame $SPX is range bound with a half percent return in 2014 for buy and hold indexers.

On the short term time frame $SPX is range-bound with 1840 as support and 1880 as resistance on the daily chart.

The current $SPX chart along with equities as a whole are just being traded back and forth between key levels. Neither bears nor bulls have the conviction to accumulate and hold longs or shorts at this time.

2014 has been a year of sector rotation inside equities not accumulation of equities as an asset class.

Many high beta names have fell into distribution like $GOOG $FB $PCLN $TSLA as this bull market goes a long time with no correction.

High possibility we see a bounce off the 50 day the first time we get there we will see if it holds.

Many trading methods converge on the 100 day as support and a bounce zone, Elliott Wave, Head & Shoulders chart pattern, RSI over sold etc. if we get there it will be a high probability buy the dip traders will step in and buy.

We are still in a relatively low volatility environment for the indexes so swing trading has a good possibility to still work here.

In this type of chart action generally the more actively you trade the more money you will lose the better you are at staying outside the noise and waiting for good signals the better off you will be generally speaking.