Archive for the 'Trading Plan' Category
What trips up the vast majority of traders so they never quite make the transition from new trader to good trader?
Not being able to deal with the stress of trading: this is caused primarily from a lack of faith in themselves and or their method.
They lack the ability to pull the trigger when it is time to enter a trade or cut a loss.
Some people just can't overcome the fear of losing money both in the entry and exit.
Many traders just do not have the discipline or work ethic to create a trading plan through proper homework.
Most traders have no trouble over analyzing the markets to death with enough indicators to make someone go cross-eyed. Many traders read enough books to know how to trade, many follow enough different people online that they get so confused they do not know what to do. Most traders spend far to much time in front of the computer all day watching the prices tick. The majority of traders would really quit trading if they added up the amount of time they spent for the privilege of losing money.
What is the key to over coming the barriers to success in trading. A GOOD TRADING PLAN, not a few rules I mean a complete plan. A plan that you 100% believe in based on your own studies and back testing. Your own personal plan that YOU created, not someone's opinions.
What needs to be in there?
The Trading Plan comes first and should account for the following parameters:
1.  Entering a trade. Quantified approved entries.
2.  Exiting a trade. Predetermined Exit point BEFORE you enter a trade.
3.  Stop Placement. How will you know you were wrong about a trade? A stop loss, trailing stop, chart signal, volatility stop, time stop, or target price.
4.  Money Management. How much capital will you risk on any one trade? This is the key to position sizing.
5. Position Sizing. How much capital will you put on any one trade? Do you have rules that tell you to trade bigger or smaller based on the odds?
6.  What to Trade. What qualifies stocks to be on your watch list?
7.  Trading Time Frames. Are you going to day trade or position trade and hold for a week or more? or will you be a short term or long term trend follower?
8.  Back Testing. You need back testing either with a computer, by reviewing charts, or others research to show that your system is a winner.
9.  Performance Review. You must keep a detailed log of your trades and watch your performance to understand the wins and losses and their causes.
10.  Risk vs. Reward. Each trade must begin with the potential of winning more money than you are risking.
This is a very basic outline, I suggest expanding this to include 30 rules minimum; 10 each covering the areas of risk management, psychology, and method. If you can write this, believe it, and follow it, you will win in trading the only question that remains is when?
I do not look at weekly charts much but when I do it is for a very important key support level. When under the 200 day moving average it is more difficult to find obvious support levels for stocks, most traders look at trend lines or price levels, I look at moving averages, and I found a strong one on the weekly time frame that I posted on my blog a few days ago, and since then the stock has arrived at that level and found support.
On the weekly chart Apple is now pegging the long term 50 week simply moving average that has held as support for the past three years. It held up right at this level yesterday and is above it in the pre-market. This is an incredibly high probability entry that I will be taking.
We are now at short term support levels and if they hold I will be buying here.
Here is a chart I posted a few days ago on my Blog, since then we have traveled to this support level and held.
The biggest question I have received today from everyone, new traders, friends, family, even my wife is "What will happen to the stock market if Obama wins?' or "If Romney wins will the market rally?"
How should we trade the election results? …..Don't.
Do not let the results color your trading, trade price action, trade the chart, trade your system. Continue to manage risk and stay disciplined. Take your entries and exits just like you have always done inside a winning methodology.
If Obama wins and the market gaps under support tomorrow and begins a downtrend for multiple days then it may be time to go short. If Romney wins and we gap up tomorrow and the market starts to trend upwards then it may be time to go long. If the election is too close to call then…trade the chart, trade what is actually happening not your own opinion of what should happen. The answers to how to trade the price action should be based on your methodology and the time frame you trade on not who wins the election.
Everybody wants a prediction but no one has a crystal ball, the best traders I know trade the price action not their own predictions.
Let's get some perspective here before we believe Apple is going out of business or that the stock is going to $300 or a 6 P/E ratio.
The indexes are holding up very well, the $QQQ is at the 200 day support, The $SPY is holding up at $140 like a champ, and the $DIA is supported at $130. We are in a base not a downtrend in the short term time frame. The market is not currently making lower lows.

The sentiment has become very bearish for Apple on social media this is one sign that most have sold out.

As with all its products since the iPod the doomsayers say that the iPad Mini is weak and just a knock off of the iPad and the iPhone 5 is not innovative enough, I hear the exact opposite from everyone who has purchased either of them, just like with all the other products.

While there is a lot of nervousness around the election and another 4 years for Obama that does not change Apples absurd earnings power and ridiculously low fundamental valuations.

If Apple was trading at a 100 or 50 P/E then I would be fearful of a plunge, but not at a 13 P/E with another block buster Christmas earnings ahead of it.

Apple is not just another tech stock it is a monster stock, the best buy points for monster stocks tend to be at a bounce off the 200 day or a break back above it.

Apple is absurdly oversold at this level by every indicator, the downside risk is minimal compared to the upside gain potential. The $560 price area is a key near term support level, $550 is a support level at the 50 week simple moving average that goes back to April of 2009.

It is very dangerous to short at these levels due to the possibility of snap back rallies at any time they can be quick and vicious as sellers stop selling for lower prices and buyers rush in and bid up the stock.

How many people wanted Apple at the 200 day so bad during the early year run but now when presented with the opportunity are scared irrationally of it being over as a valid growth stock. If this is not the end of the story for Apple then this is the buying opportunity everyone has been waiting for. The odds are that this is not the end, just a rest period before it returns to all time highs just for fundamental valuation reasons.

Of course trade this stock with a plan, have a high probability entry like the $550 or $560 areas after a bounce or a break back above the 200 day moving average.

I look for the 200 day sma to act as a first level of resistance and a place to take profits on a day trade or where this may be a short entry point for a day trade. The $600 price level will likely act as the second level of resistance, the century marks are places where traders like to take profits and put on new short plays.

Apple is THE best stock to play options on due to their liquidity, plentiful price strikes, and weekly options
I am not letting this opportunity pass me by, investors, option traders, growth stock investors, and day traders should all have this on their watch list and trade or invest with it based on their own methodology with out being blinded by FEAR.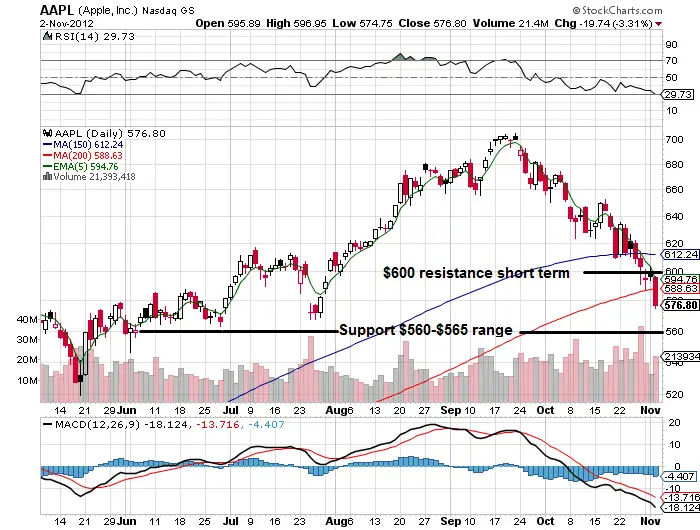 Another interesting possibility if the bears really roar is the very long term 50 week moving average in the $550 area on the weekly chart, this level has not been  breached since April 2009 around the bottom of that bear market.
In trading, activity alone does not make money, the right activity at the right time is what makes money. Many times the right thing is to do nothing. Over trading is one thing that causes traders to lose money. You can not make money every day in every trade. Every trade is an exposure to losses, your capital should only be exposed to risk when you have an edge.  Sometimes their are set ups and sometimes there are none. Trend Followers should only be trading trends. CAN SLIM investors should only be taking break outs from cup with handle patterns or bounces off the 50 day moving averages. Chart Pattern traders should only take entries off pattern set ups. Traders have to follow the entries that are in their trading plan. Even discretionary traders should only be entering based on their rules when their experience tells them the odds are in their favor. Your entry should be putting 1% of your capital at risk with the odds being you will return $3 for every $1 you have risked.
In your trading you have to do four things very well to make money.
You have to know when to get in.
Only enter trades that have the highest probability of success and the best risk/reward ratio. Buy the best monster stocks during up trends. Short the fallen leaders when the game changes and they are under the 50 day. Buy the monster stocks at the gift of the 200 day moving average at the first few tests. Short down trending junk stocks. Go where the trends are. Only take your best entry signals. Trading is not like baseball you do not get strikes, you can wait for the pitch you want.
You have to know when to get out.
When your trade reverses through a key support get out. When the market up trend reverses get out of your long positions. When your stop loss is hit, get out. When the stock reverses and hits your trailing stop, get out. When you have lost 1% of your trading capital, get out. Money is made on exits not entries and trading accounts are ruined by not taking stop losses when they are hit.
You have to know when to stay in

.
If you enter a trade with the potential to trend let it run as far as it will go. Set a soft target,  trail your winning trade with a stop. Let the trend tell you when it is done running. Do not cut your winners short, the only way to win in trading is if your winning trades are more than your losing trades.

And most importantly you have to know when to stay out.
If you do not know what to do, do nothing. If the charts confuse you, stay out. If the volatility is escalating and you are losing in every trade, stay out. If you are a trend trader and you see no potential trends, stay out. If you want to go long but all the stocks you want are going down, stay out. Wait until you see patterns, trends, and good entries emerge from the randomness and chaos, until then, do nothing. The one entry that has saved me the most money is going into cash and waiting for a storm to pass.





On this scary holiday of ghouls and goblins, trick or treating, and haunted houses it made me think of what is really scary for traders to do. Emotions sometimes are sending traders messages, fear can mean that you have not done enough homework or that you are trading too big. Fear can be screaming at you to cut your losses as they become bigger and bigger.
The majority of the time you should be greedy when you are winning and let your winner run to a logical resistance point but be fearful and ready to exit when you are losing afraid that you loser will grow bigger.
The Top Ten Scariest Things A Trader Can Do…..
When risking 5% of you account on any one trade, 10 losers in a row and BAM! 50% draw down and you need a 100% return to get back to even. If you don't think that you will have ten losses in a row this year then that is SPOOKY!

Buying far out of the money options with a .10 delta. Generally this trade will lose 9 out of 10  times, only being profitable from the strongest trend within your time frame. Spooky that traders want to buy lottery tickets with those odds.

Taking a trade with NO EXIT STRATEGY that is a horror movie. It is dangerous to not have a stop loss when you enter a trade becasue if a trader thinks they bought in at a great price the price starts looking better the lower it goes, and terror of all terrors the trader adds more to the trade! It only takes one mistake letting one trade run into a huge loss and add to it to blow up an account.

Shorting the strongest stocks in the market during a bull market is scary as they continue to go up.

Going long a stock in a death spiral due to a business misstep or earnings decline is like riding a roller coast that generally ends up much lower when the trade is finally closed.

"Going all in" on one trade, with this plan all it takes is one bad trade to blow up your account, those are scary odds.

When you are losing you go from your trading plan to "plan B" "hoping" maybe even praying for a reversal. When a trade turns you religious and leads you to pray it is definitely time to get out!

Asking for others opinions instead of following your trading plan or methodology is very scary, time for homework not tips.

It is terrifying to watch someone fight a trend instead of follow it. The bigger they go against the trend the scarier it gets. They are trying to stand in front of an elephant walking and tell it where it should be going.

When you find out you are in a trade that is 100% the opposite position of the best traders you know, it should be a wake up call to reassess your thinking process, I know that is always an uh oh moment for me, I usually lose in those situations.
Happy Halloween Everyone! Be Safe My Friends!
In the markets there are many different types of traders and many motivations that drive them.  Everyone has heard of  different types of traders based on their trading method: Swing Traders, Day Traders, Momentum Traders, etc. But what about different types of traders based on their psychology, their purpose And motivation?  Some trade for fun and excitement, others trade purely for ego. Others love the game and still others are in it only to make money. In the greatest game on earth it is surprising that many traders have different motivations, in reality the only correct motivation is to make money, that should be the real goal of any trader. Here are a list of ten types of traders I have observed on social media. We have all likely been more than one of these types at some time or another while trading. But we need to focus like a laser on the only real reason we should be trading: to make money and once we have made it, to keep it.
Greedy Traders: They trade too big and risk too much because their only goal is the easy money. They usually end up blowing up their account.

New Traders: They have no idea how the markets work so their only goal should be knowledge. New Traders do well to stay students until they have done their homework. Rushing in to make money without risk management, a winning method, the right mind set, and a trading plan will result eventually in failure 100% of the time.

Arrogant Traders: Their only goal is to prove they are right and satisfy their fragile egos. Arrogant traders will lie, delete tweets and posts, never admit when they are wrong. When they are wrong they will hide it under a cloak, when they are right they will scream it from the roof tops.

Trend Traders: Their only goal is to ride a trend and make money. Trend traders will buy high and sell much higher, they will short and cover much lower. They look like genius' and prophets in a trending market either way it trends but they look like they can't even trade in choppy or whipsawing markets. In the long term they do very well.

Scared Traders: Their only goal is to not lose their capital. Scared traders will immediately close losing trades and also immediately take profits. They are very stressed out in trading due to not understanding the nature of trading itself or just can not handle the uncertainty or risk. They either need to do their homework to develop their faith in or if they have done the homework trading may just no be for them.

Perma-Bull Traders: Their only goal is to go long stocks. Buy the best investment in the best stock.They have no desire to go short they always believe the next big rally is around the corner and love to buy lower and off support levels.

Perma-Bear Traders: Their only goal is to short stocks. They always think the market is on the verge of a major crash. They "know" the economy is in shambles and the markets are prone to fall. In a bull market they believe prices are too high and will reverse sharply. In a bear market they believe we will go much lower.

Prophet Traders: Their only goal is to rightly predict market movement then let everyone know they did. They always think they know the top or the bottom, they love targets and believe that charts show exactly what is going to happen next. They do not really discuss their own trading they just predict prices.

Paper Traders: They love the market and study more than anyone but never quite make the plunge into real trading. They stay in the comfy cozy world of paper trading and make it more of a hobby. They just can't make the transition into the real markets.

Rich Traders: Their only goal is to consistently make money and grow their capital over the long term. They do not ask for tips, or advice, they did their homework and they trade their method. They maintain confidence in themselves and their methods regardless of whether they are winning or losing.
Which type of trader are you?
Where is the Apple that we use to know? It is crucial that we stay mentally flexible and trade what the chart is saying. Anything could happen next week. Apple could reverse and make a run for the 50 day as institutions start loading up at bargain prices or if we lose the 200 day we could roll over and start testing the $575 area. Don't trade your opinions trade the chart and follow the momentum and what happens around key support and resistance areas. If you are wrong get out quickly if you are right let it go until it gets into a key area and look to bank profits. Stay quick on your feet or stay in cash. Currently this is a trader's market.
Apple stock is in a downtrend, earnings did not reverse this situation.

Nine out of ten times that Apple has tested the 200 day sma in the past  4 years it has bounced back above immediately.

Apple has closed beneath the 5 day ema six out of the past seven days. Above the 5 day ema is a high probability area to initiate shorts.

the 150 day was support for 4 days but has now turned into the first layer of resistance.

Apple bounced almost to the penny off the 200 day in the post market after earnings and at $591 on Friday, long positions in the $585-$591 area are high probability spots to enter long for a trade or for investors to add to long term positions.

For me to consider going long we need to close above the 150 day and 5 day ema and follow through the next day.

The chart historically is saying we are oversold and due for a bounce.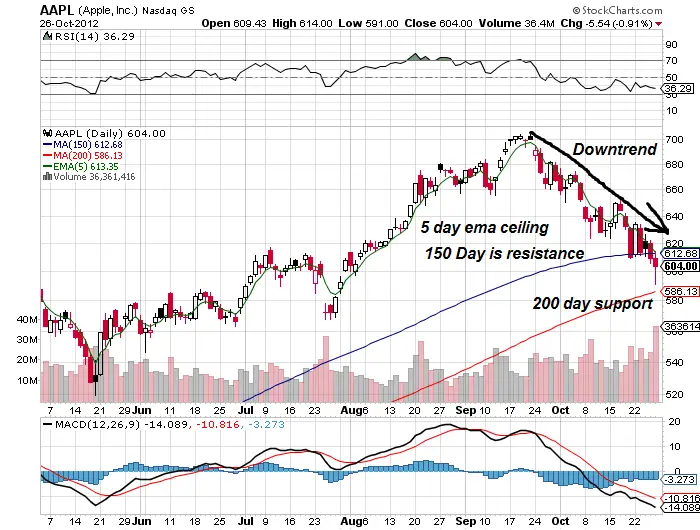 There are seven skills you will need to survive in trading without discipline no system will work because it will not be followed. With out risk management it is a 100% probability that the trader will blow up their account. Without passion trader's will not have enough energy and drive to  get from new trader to rich trader. Without perseverance new traders  become quitters after meeting with resistance, failure, and monetary losses. No work ethic = no edge over other traders. Without flexibility a rigid trader will be broken by the markets. Without a focus a new trader becomes the jack of all trades and the master of none.
DISCIPLINE: The trader must have the ability to control themselves and follow a plan. Discipline is a required skill in trading without it there is no edge, you are either a gambler or simply trading off fear and greed. You will not be successful, instead you will be gamed by those in control of their emotions.

RISK MANAGEMENT: Risk management must be a top skill for a trader to even survive in the markets. You must structure your risk per trade to be no more than risking 1% or 2% of your trading capital. You have to be able to survive 10 losses in a row. These strings of losses come around more often than a new trader would suspect. If you lose just 5% of your trading capital in each of ten trades you will be down almost 50% and need a 100% return just to get back to even. At this point you are ruined.

PASSION: A trader must love to trade, without a passion for the markets and trading the new trader will not survive the learning process because anyone with common sense would believe that it was not worth the struggle. Passion will be needed to bring a trader through the learning curve and later the losing streak.

PERSEVERANCE: A top skill of a trader is not quitting. A trader will have many bad days, bad weeks, bad months, and in the beginning, even bad years. The ability to keep going anyway because you have a goal in mind can not be underestimated.

WORK ETHIC: There is no easy money in trading it is work. Even the 'easy' money in bull markets is usually taken back from newbies in the next bear market cycle as they continue to fish for support and just know their stock will 'come back to even and let them out'. Being a trader is probably equivalent to getting a bachelor degree in a college and in some ways it is like getting a law or medical degree. New traders should expect to pay tuition costs as they start out not just in books, tapes, videos, seminars, and newsletters but also trading losses. There is no professional field where you can just start it and make money from day one. Expecting to start making money trading from day one is like some one going up to a doctor and saying "Hey, how can I make some quick bucks in the medical field, just tell me how you do it."

FLEXIBILITY:A trader must have the skill to both quickly realize they are wrong and act on that by taking a small loss before it becomes big. There are no crystal balls good traders play probabilities and try to go with the flow. Most new traders will never accept that trading is not about being right every time it is losing small when wrong and winning big when right. Expect a 50%-60% win rate and understand that your wins have to pay for your losses so make them as small as possible.

FOCUS:In trading being an expert on your specific markets: currencies, commodities, futures, options, or stocks will lead to more success than dividing your attention into too many parts. A small watch list allows you to not miss anything and understand your own trading vehicles better than the majority of others you are trading against. Also being an expert on your own systems, methods, or styles will give you an edge over others that drift between methodology.
Surprisingly I have found that these seven skills are primary and the winning trading system itself is secondary. There are many, many, robust systems, methods, and styles but none of those work if you are missing one of these.
Since the whole world is waiting on Apple earnings I felt I had no choice but to tell my blog readers how I see it. I have good news and I have bad news, which would you like first? Okay I will give them both to you straight.
The bad news is that no one can give you the right 'advice' on what to do, the good news is that you can have a plan before hand. If you are a long term investor with a rock solid $800 price target in 2013 you should hold, if you are a day trader you should not be involved at all, if you are a position trader it would be wise to start new positions after earnings and go in flat, if you are an option trader you can structure a trade that fits your beliefs, long, short, bet on volatility or against volatility, etc. My position will be NONE I will be IN CASH because one of my rules is not to trade through earnings due to the risk. My #1 priority is risk management not profits.
The bad news for bulls is that earnings may not meet expectations due to the older product line for that quarter the good news is that it is already priced in both in projections and the price hence the sell off.
The bad news is that Apple is already very over owned by institutions and investors, the good news is that it will be whether they hold or sell that will drive the price higher or lower.
The bad news for bulls is that Apple is perceived as too big to continue growing the good news is that it is already priced in with a decreasing P/E multiple.
The bad news is that if the earnings are the least bit disappointing the stock could fall quickly to the 200 day or even lose it, the good news is that it will be a buying opportunity at a bounce off the 200 day or a retaking of it later if it does roll over.
The bad news for bulls is that the many think Apple is done and can not continue to grow and compete, the good news is that is not how monster stocks generally go out, they go out on a euphoric blaze of glory where everyone loves them as they go lower.
The good news for bears is that Apple is under distribution an in danger of losing its key 200 day level, the bad news for Apple bears is that at a 14 P/E, $100 billion in cash, and the hottest products and infrastructure cloud in the world it will have great difficulty truly 'crashing'. True parabolic crashes come off P/Es of 40-100 during euphoric bull markets not during market corrections. And I am not a value investor I am a chart reader, but common sense dictates how to define reasonable price levels from historical data.
The bad news is that Apple has trouble making and distributing products fast enough, the good news is that every company wants that 'problem'.
The bad news is that many have tons of gloomy reasons why Apple is in trouble and doomed to fall from here, the good news is that it is nothing I have not heard since 2007 and before. Apple continues to break all the rules about what is possible. SO FAR….
My trading plan is to wait until after earnings and play the trend that emerges tomorrow with weekly options to limit my downside but capture the trend in either direction. If we fall to the 200 day and rebound I will be long with a bounce off of it (IDEAL) if we lose the 200 day I will be short while we are under it, if we gap up and break to the upside and hold I will go long tomorrow morning.